The first is Little Humans new toy box/bench. I am probably going to repaint it because the red has a serious pink cast to it, and I think for right now I want to keep the muted colors in his bedroom. He loves it, but realistically, I'm not sure how long we would be able to keep toys in it. He really likes getting in it and lying down. ($40)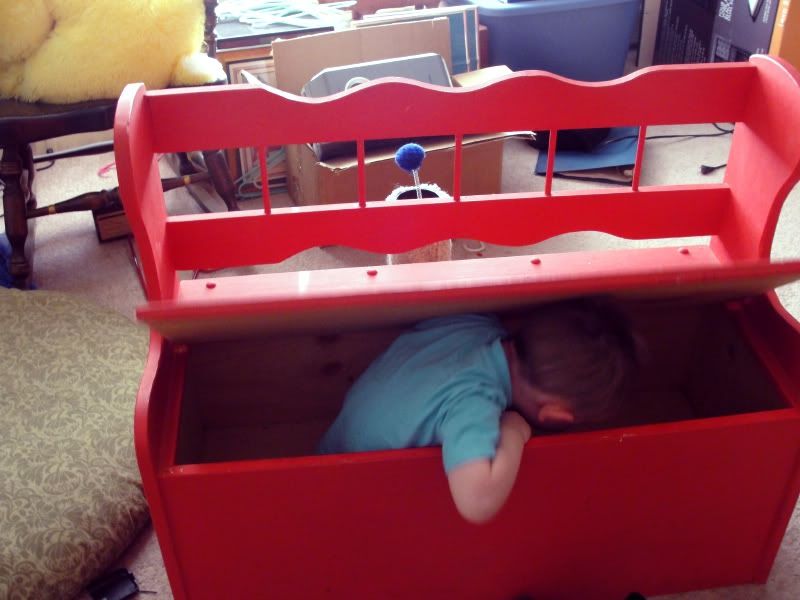 The next newish item is the cabinet that I use for all of my Witchery stuff. My books, candles, candlesticks, and magical items are all in here. I haven't decided if I want to refinish it or not. I think it is beautiful in it's aged appearance. At some point when I get it more organized, I'll get an inside picture. It was my Mother's Day present this year :) ($40)
This last one is what we are using as our entertainment cabinet. I found one online that I fell in love with but it was about $800. When mom saw this I practically drooled. It is so pretty and does what we need it to.
I made a cotter pin for it using a scrapbook embellishment (you can barely see it at the top of the doors). It keeps Little Human out of it perfectly. The bottom drawers have magnetic locks so he cant get in there. Not all of our DVDs fit, and I'm thinking about either getting a book or a few of the lidded boxes with sleeves for some of them. DVD player, VCR, and the Wii are on the top shelf (we have the way to get the cables managed, we just haven't implemented it yet). DVDs on the next 4 shelves and there is just enough room on the bottom to slide the sub woofer in there when not in use (LH likes stuffing things into it when he's bored). The drawer on the left houses the Wii accessories and the one on the right has some of his stuff in it. ($150- original price $1400, seller paid $279 2 yrs ago: seller actually had the original price tag!)
The cabinet has pretty much made me rethink the Living Room decorating, completely. I was going to go with a more modern look, but I love this cabinet and I think I can do a more french country look, even with the more modern sofa (that desperately needs a throw cover). If I go that route, it will match the rest of the house and make it feel more cohesive. The modern LR was really going to be jarring with the rest of the house.
I updated the picture in the last post so now the dining room table actually looks like it does in real life and not so yellow.
Thank you
rubye_tuesday
! If not for your generosity, we couldn't have found and bought most* of these lovely new furnishings :)
*Jonathan's dad is responsible for the new toy box:)
I have a couple of new aquisitions that I hadn't gotten around to uploading. We are finding all of this stuff on Craigslist. And for incredible prices.